Alessandro Cossu
---

I think for a musician to give a definition of his own music is one of the most difficult tasks.
Through the years my interests have changed considerably and I've always found the categorization in a precise genre a little too tight. I started playing at a time when I did'nt have very clearly in mind what music was. Not that right now I'm so sure either. I started playing when I was 13 and since in my house music wasn't that big of a presence I had to discover everything little by little.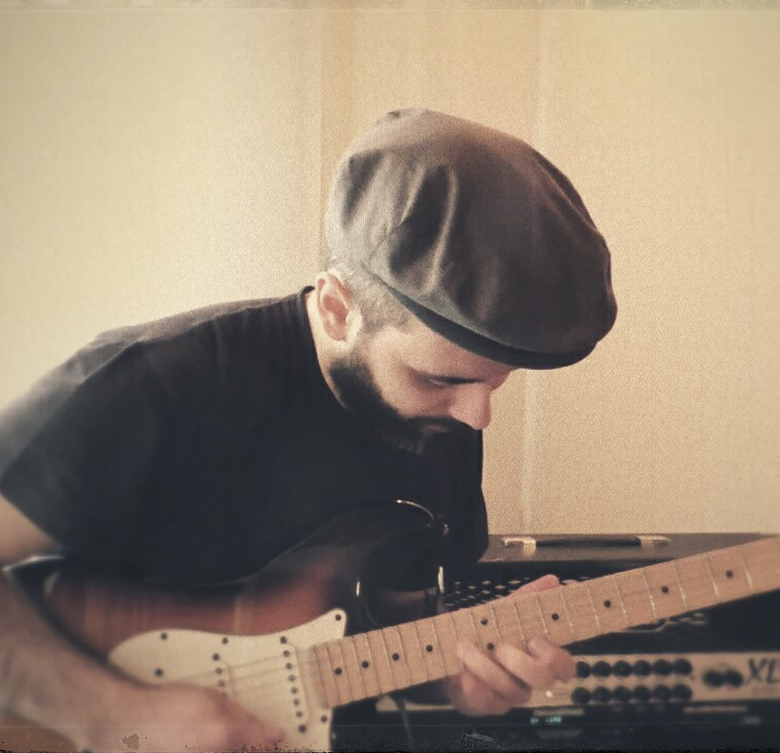 My history

So.. at first I wanted to be a metal head, flying V and big distortions. Then I started to realize there were also other ways of making music, but at the same time my attention was increasingly pointing towards attaining a better technique. That's why names such Malmsteen, Paul Gilbert or Jason Becker were my references for guitar playing at the time. Other ways we were saying.. by this I mainly refer to fusion that was arounsing my interest because I saw it as a way to deal with complex harmonic progression, without limiting myself to the minor scale and without going too deep inside the jazz realm, in those years still way too far from my ears. But you never forget first love, so I joined ASHENT, progressive metal band under Lion Music music with whom in 2012 I recorded the album Inheritance, third of the band, which received great reviews from magazines and websites. In 2011 we also recorded the song Disappearance for the benefit compilation Embrace the sun, to raise funds for the victims of the tzunami that hit Japan in March of the same year time, together with artists as Jennifer Batten, Milan Polak and Marco Sfogli. Shipwrecked Affair and Fractural, both from Inheritance were chosen for the soundtrack of the movie Ex Inferis by Leonardo Araneo, produced by Talking Tree. For two songs of the album we also realized two videoclips: Magnification of a Daydream and again Shipwrecked Affair.
My first solo album Pensieri is dated 2010, when I recorded eight original instrumental compositions of rock-fusion, self-produced and recorded in trio with Denis Baselli on bass and Mirko Sclabi on drums, with the participation of Gilles Boscolo on keyboards and saxophone in two of the songs: Pensieri and Away. As a session player I've played live with several bands, especially with THE CASUAL'S (italian pop/rock, produced by Sandro Franchin -Vasco Rossi, Tiziano Ferro, Shade and others-) and ELVENKING (hard rock/metal under AFM Records) with whom in September of 2010 I played during their european tour, opening for PRIMAL FEAR. In 2008 I played with Gianni Rojatti's DOLCETTI, opening for PAUL GILBERT and the same year I won the Guitar Contest in my hometown Udine. My musical studies comprehend a master degree in Musicology, studies at CPM in Milano and Lizard Academy, where I then attended the Professional Master for teaching qualification. Between 2005 and 2006 I was in LA attending Musicians Institute, where I had the chance to study with such guitarists as Scott Henderson, Greg Howe, Matias Eklund, Pat Martino, Andrea Quartarone, T.J. Elmerich, Carl Verheyen, Chris Broderick, Daniel Gilbert, Jeff Kollman, Beth Marlis, Allen Hinds, Dave Hill, Jeff Richman, David Oakes. Right now my musical interests have gone further towards jazz and contemporary music, of which I especially appreciate the idea of music as a free expression of the artist, where everything is allowed if supported by a strong idea. That's it for now. See you around.